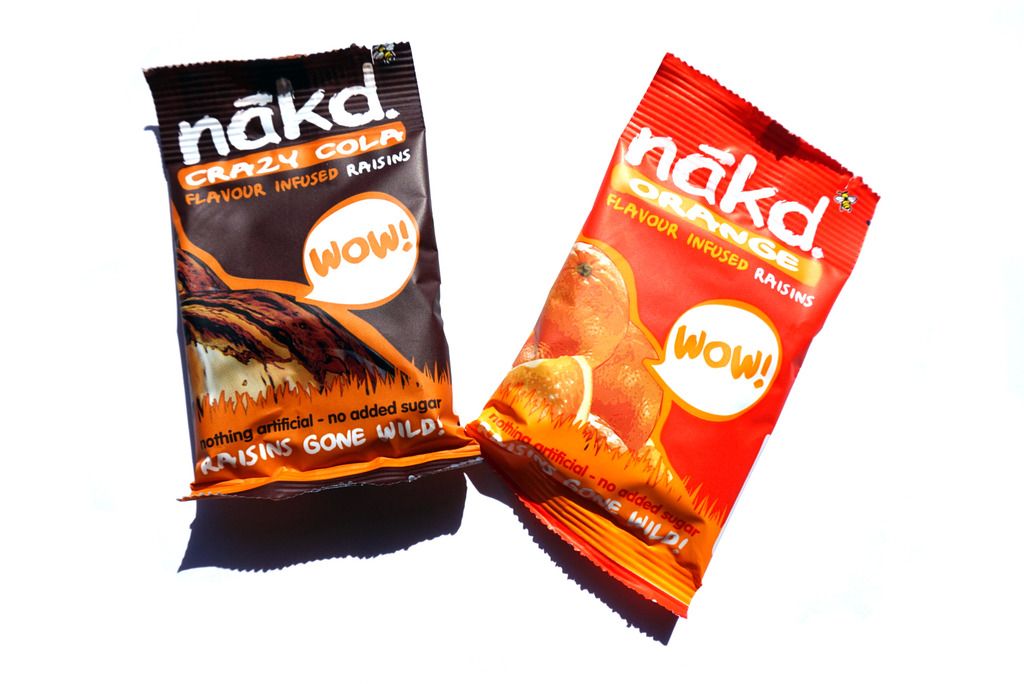 I recently went to Asda for friday night snacks, little did I know I would be leaving with packets of raisins!
I'm trying to eat better at the moment, but it's very hard bypassing the chocolate aisle in favour of something healthier.
Whilst getting some vegetables for my two house rabbits, I noticed these Nakd raisin packs by the fruit.They're definately not something that I would normally choose to buy, but I've been seeing a lot hype around the Nakd bars recently. Seeing as they were so cheap, about 35p a packet, I thought I would give them a go. I picked up the cola and orange flavours, however there is also lime and cherry, which were currently sold out in store. (I took that as a good sign!)

By the time I got home I'd forgotten about these beautiful delights. Instead, I rushed straight for the new Galaxy salted caramel chocolate bar, it didn't satisfy my sweet craving at all urghhhhh!
Anyway, Saturday arrived and I saw the packets staring at me on our black kitchen worksurface. Eat me they screamed! I felt sorry for them so thought I'd better try a packet.Woahwoahdiwiwheiejwh!!!!Why oh why did I not eat them last night?! The cola raisins are SO good! I wasn't really planning on liking these to be honest, but woahhhh! They're my new favourite snack! It was an explosion of flavour from the very first raisin. It was like eating a cola sweet, not a healthy raisin with no added sugars or preservatives! The orange ones were also just as juicy and delicious, each raisin bursting with a delightful orange flavour.
Nutritional information taken from the Nakd website

.
I'm so impressed by these packets of joy, that I've eaten all 4 bags already. Maybe I've finally found a way of kicking sweets to the kurb and enjoying something that is so much better for my body!
My mission this week is to try as many Nakd products as I can. It's not exactly going to be hard if they're anything like these raisins!
Go try Nakd Raisins for yourself and let me know what you think!